Manfred Ertel (* 1950 in Hamburg) was political journalist for the news magazine "Der Spiegel" and Chairman of the Board of the Hamburger SV. Currently he works as author, speaker and political advisor.
Regarding the book "Der Foul Spieler": You may have noticed that although it is a "Hamburg crime thriller" large parts of the book play in Crete and Athens. The main characters are the Hamburg prosecutor Eleni Kamenis and the chief criminal commissioner Giannis Kostapoulos, born in Hamburg as son of Greek diplomats. While Europe was providing Greece with financial support during the krisis, Kostapoulos decides to go to Greece for a limited time as kind of a "development aid" and ends up in Mires on Crete.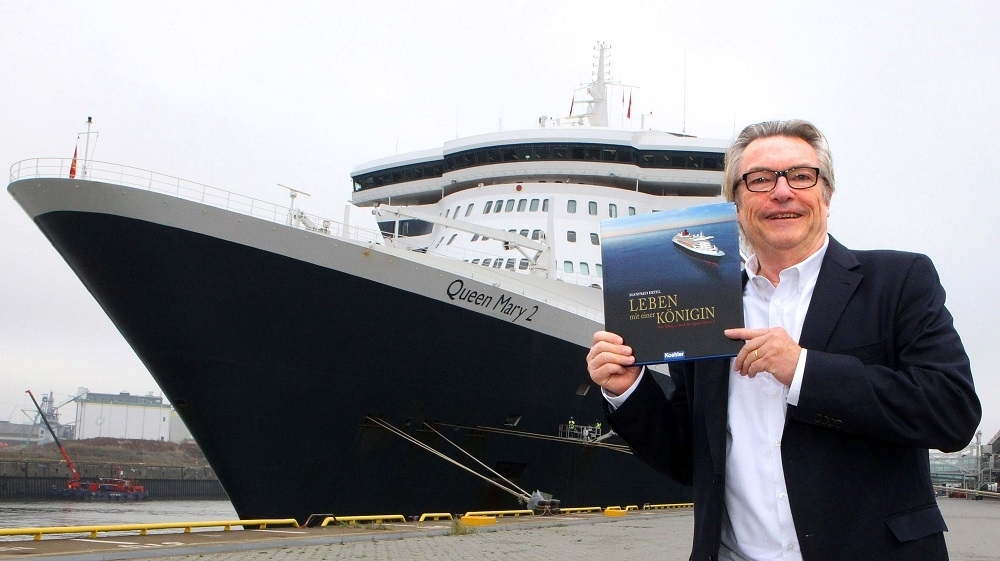 Manfred in and from Hamburg.
Here he is confronted with a corrupt referee who has manipulated football matches in Germany Having been involved in an accident in Crete due to a chain of unfortunate circumstances he leaves the place of the accident and commits the crime of driver evasion – thus getting the investigators on his track. Kostapoulos later also worked on behalf of Europol with the Athens public prosecutor …
Of course, the fictional crime story has a lot to do with my personal vita and my research of a very real background. This Greek/German story background is it why your reading festival (Griechisch-Deutsches Lesefestival) is so appealing to me and I wanted to participate.
The interview
If you only have 5 words to describe yourself. What would you say?
In nouns: father, grandpa, husband, author, football fan;
In adjectives: loyal, loyal, honest, impatient, combative.
When, why and how did you discover Crete?
The first time as a very young person, when Bali Beach on the north coast was still a completely sleepy bay for nude bathing, and Agia Galini in the south was an insider tip. In the nineties, I really fell in love with Crete after I had discovered Kalamaki and Komos Beach in my search for peace and nature. Since then I've been here at least once every year.
What do you like most about your vacation here?
Nature, the sea, the serenity of everyday life, the tavernas with the rediscovered Cretan cuisine and the fresh fish. And, of course, the new and excellent Cretan wines.
What do you miss the most compared to living at home?
Nothing. For me, Kalamaki is a supplement to everyday life in Hamburg, a balance to the normal German weekly stress and the opportunity to recharge my batteries with sun and energy. Sometimes I miss football a little.
How do you perceive the people here as a XENOS – as a stranger and guest?
Above all as extremely hospitable, so that I myself do not feel a "Xenos". Since I, as being a journalist, closely followed, got an understanding about and finally described the financial and economic crisis in Greece. And, of course, I can also see the social consequences and upheavals that the crisis brings to Crete. Certainly they are less than in Athens or Thessaloniki, but still far too many.
How do you spend your days, what is on your mind?
In my private life, my two little grandchildren keep me busy as well as my professional passion: writing. In Crete it is leisure and idleness: sitting in the nature, looking at the sea, swimming, reading, and meeting friends in the taverna in the evening.
What do you value most about your Greek hosts?
The hospitality and informal warmth and serenity, the art of living that we Germans like to call savoir-vivre, even if the French understand it differently.
What is your favorite beach and taverna around here and why?
My favorite beach is definitely Komos Beach – a wonderful piece of protected nature between Timbaki and Matala on the south coast. There are three favorite tavernas: Taverna Avra ​​in Kalamaki for Cretan oven dishes, "Sactouris and Sofia" in Sivas for great and varied appetizers and "Mysticle View" on the steep coast between Pitsidia and Matala for particularly fresh fish. We struggle again and again to sufficiently appreciate the different advantages of all three during our stays.
What should never change in Paleochora / Crete?
Im am sorry, I cannot answer because I have heard a lot of good and interesting things about Paleochora, but unfortunately I can't manage to turn away from my favorite places on Crete …
And what should change here?
–
What do you wish Greece for the future – in general and for Crete in particular?
I wish Greece and especially the Greeks that they will finally and sustainably overcome the consequences of the financial crisis. In the foreseeable future, this will not be possible without European help, which must benefit people, their living standards and their social security more than before, for example by investing in new and future-proof jobs. But this also includes better governance through tax justice, a better rule of law, the fight against corruption, and a more pronounced sense of community. You can't get something from nothing.
For Crete, I hope for a slightly better accessibility for travelers, a slight expansion of the tourist season – without falling into the fatal traps of mass and all-inclusive tourism.