Azogires is a small mountain village, about 9 km northeast of Paleochora. It is renown for its overwhelming nature, the many olive trees, wild herbs, small waterfalls and impressive caves – and, of course, for the old monastery that now houses the local museum. Last but not least, the Alpha -Cafe run by Eftychios "Lucky" Koukoutsakis is a landmark.
It is worth to dedicate a day to the "Charakas" and "Soures" caves, which are very close to the village and deeply connected with the local religious traditions. The "Charakas" cave is located southeast of the village consisting of three stone-carved plains which are said to have been used in ancient times as burial sites for the most respected deceased. These can no longer be seen, since the still existing monastery of the Holy Fathers was built in the same place at a later time in 1864.
Around Azogires.
The monastery's history talks about 36 monks, among them St. Joannis from Cyprus, who moved from Cyprus to Attalia in Central Asia and from there to many cities around. More and more monks joined, so that the number rose to 99 (together with Christ they formed a round group of exactly a hundred). Via ship they travelled from place to place and from country to country teaching the Christian faith. A strong wind caused them to land in Gavdos. This place on the coast is still today called the "Rock of the Fathers". Their arrival is estimated to have taken place around the year 1300 AD. During their stay on this deserted, arid beach of the island, they suffered greatly from lack of water. The first of these monks prayed and pleaded for many hours, then drew the cross sign on a rock, and crystal clear drinking water immediately sprang allowing the group of holy people to remain on the island for 24 days.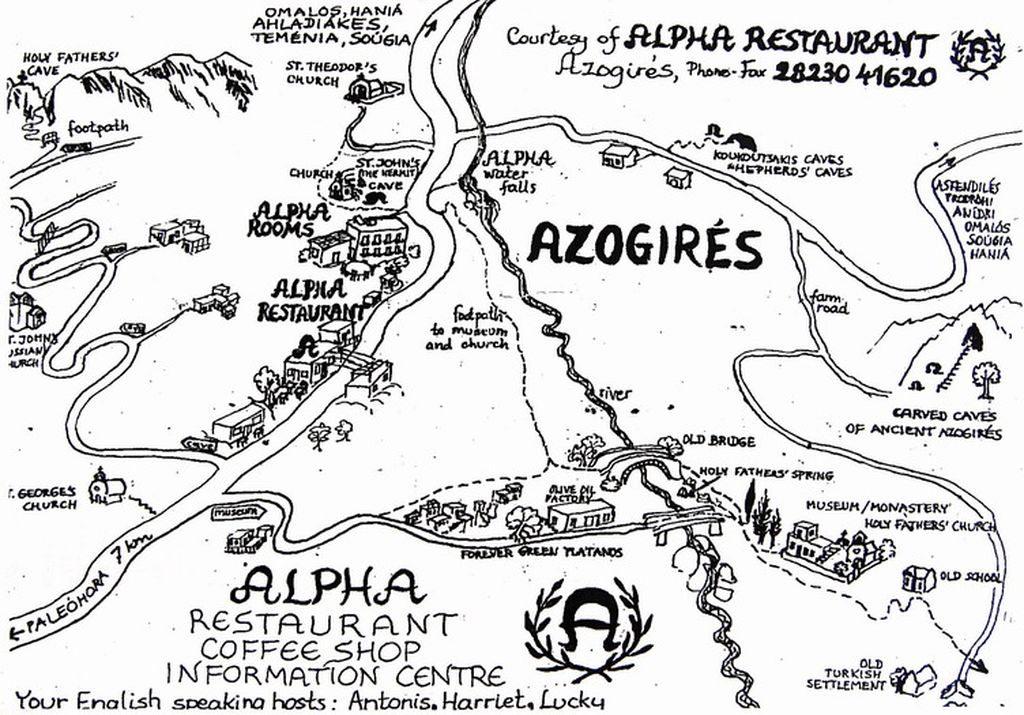 When the Holy Fathers left Gavdos, they had forgotten to wake up Saint Joannis (oops!). According to tradition, this happened because God wanted to praise him and reveal his virtues to the people. Thus he covered him during his sleep on invisibility so that the other brothers did not see him when leaving. When Saint Joannis woke up and realized he was alone, he prayed to God to help him reach the other monks who were sailing towards Crete. The help arrived. The story tells that he turned his stick into a boat and his robe into a sail thus reaching his group friends, who were already anxiously waiting for him to continue their teaching task.
The Holy Fathers' ship moored near Paleochora on the eastern beach. From there, everyone headed north to the caves.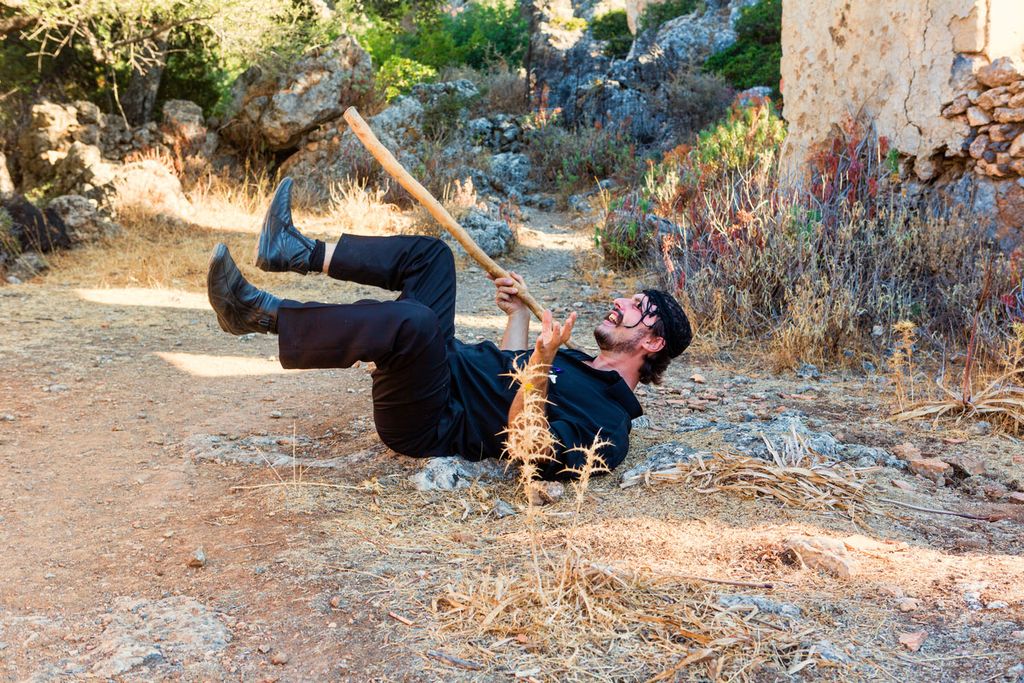 Lucky" Koukoutsakis and his Azogires.

They took a first break at the caves to recover from the stress of the sea voyage. And stayed there. Some settled in the Charakas cave, others in the cave of "Waráthro of Soure" where they died. Saint Joannis separated from his brothers for unknown reasons and settled on the Akrotiri peninsula near Chania, where he also died.
The Soure Cave is located 535 m northwest of Azogires. Three iron stairs allow to climb down into the enormous cave. It is rocky and very deep containing a spring and many stalactites. After the descent a long walk will lead to a small church – the Church of the 99 Fathers.
The 99 Fathers' Cave can still be visited today, alone or together with local pilgrims who usually combine their visit with attending the Panagiri Church Festival, which takes place every year on October 7.
Good source: The book Paleochora (Ein Rückblick in die Vergangenheit) by Nikolaos Pyrovolakis. Only available in the Paleochora bookstore.
Our tip: Take a car, bus or taxi to Azogires. It is about 8 km from Paleochora. Walking or cycling is an alternative only for well-trained people.
Lucky's taverna in Azogires offers Sofia's omelet, probably the best omelet in the world. And often live music in summer. The most diverse styles of music. Art and culture are very important to him. In any case, a visit to the Cafè Alpha is a must for every Paleochora visitor. The atmosphere is unique in this little mountain village. You will feel like a time traveler – promised!.
Crete as it used to be.