The title of this article may be confusing, but we can resolve this confusion in a moment. It is again an evening in good company – the famous "kali paréa" here in the village. As agreed upon at noontime the group consisted of the Radio Kreta editor-in-chief, here called "Jannis", the fisherman and gifted chef cook Wassilis, and the former Heraklion Airport Manager Kimonas from Napoli – the group is the so-called "hard core":
Let's go to Auntie's Taverna.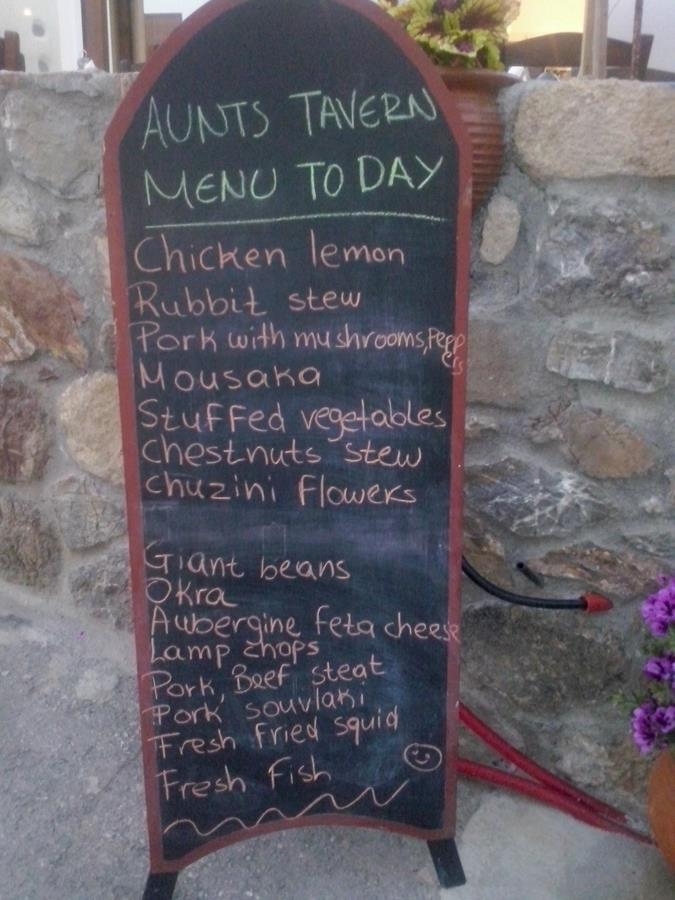 As usual in Crete, it was a cheerful coming and going, sitting and standing, snacking and cheering, smuggling and toasting – we had a nice evening for four – plus Jannis, Giorgos, Gina and others.
The background of this meeting was the fact that our dear fisherman Wassilils (82) had caught a moray eel (Smérna – Σμέρνα) and wanted to serve this specialty to his friends in the newly opened "Auntie's Restaurant" (Taverna tis theías – Η Ταβέρνα της Θείας), which he was gladly promised to be allowed doing.
So we met there in a homely and cozy atmosphere, greeted familiar faces and ordered appetizers and drinks, chestnuts, dacos and zucchini.
And then Wassilis came with his catch, briefly instructed the cook how to prepare it, and sat down at our  table, on which zucchini flowers filled with yogurt, delicious marouli salad and a sensational chestnut stifado were already waiting. Everything exceptionally delicious. In addition, there were  white wine and toasted bread with oil and oregano, grated tomato so that we could make our own  "Dakos".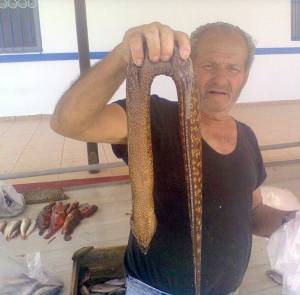 This was the absolute culinary highlight of the evening. Sliced ​​into pieces, seasoned with salt and pepper, turned briefly in flour and then fried in olive oil (just as Wassili had ordered), we were offered a specialty that is second to none.
The meat was white, tender al dente and tasted somewhat "fishy", but not penetratingly. Not greasy, practically no bones – a dream for all fish haters (to whom we certainly do not belong) who come along with the "we-haTE-to-take-out-the-bones" excuse.
A really extraordinary culinary experience that we would be happy to repeat (waiting for you, Wassili! ;-)).
And where can you find this taverna?
Either on Google Maps or via TripAdvisor (good luck!). Or you can just walk past the taxi office in Paleochora to the left in the direction of the Gavdos district. And you will find it after about 100 meters on the right side.
Antonia's specialty is the chicken in lemon sauce (Kotopoulo lemonato) and the chestnut stifado (Kastana stifado).
Just try it!