Risking that we will get comments like "This is too much Paleochora", we feel compelled to give tips for delicious food to all the tourists who say they only came here because of Radio Kreta. It is all a matter of taste, of course, and our recommendations follow our own taste.  
This list is not arranged according to priorities, qualities or otherwise, not all is suitable for vegetarians. Yet they include the most important details and the restaurant, where the respective dish can also be enjoyed. Not always all dishes are available everywhere. The list and the prices are due to change – depending on the season and the taste of the restaurant owner.
Spare ribs at Jorgos in the "Cape Crocodile". Attention: For two people it is better to order only one portion – it is a big portion and served with deep-fried potato slices and two kinds of sauces (approx. 12 euros / portion).
Spaghetti "di Mare" at Michalis in the pizzeria "Odyssey". Lots of spaghetti, a lot of "di Mare" at a moderate price of around 7 euros.
For fish lovers "Sinagrida Plaki" in Houmas on Grammeno Beach (left hand on the way to Koundouras). Juicy fish with a spicy coating at a price of around 8 euros.
Small cabbage rolls filled with rice and herbs with a topping of yoghurt at Thassos in the "Glaros – Seagull" taverna. Price about 6 euros.
A "special burger" at Haris from Water's Edge Café. A burger with minced meat, bacon, glazed onions, cucumber, tomato, mustard, ketchup, lettuce, cheese and a few fries. All for just under 9 euros, and it is enough for two. And if you have doubts about the amount, just order the "Double Special Burger", there will be 2 minced meat slices, the rest is identical. A little more generous it costs around 10 euros. And always order the "homemade" version, because these are the homemade meatballs, not those from the freezer!
Goat with yogurt in the "Grammeno" restaurant on the way to Koundouras. Tender stewed goat kid with yogurt sauce – just a dream! Approximately 8 euros and worth every single one of them!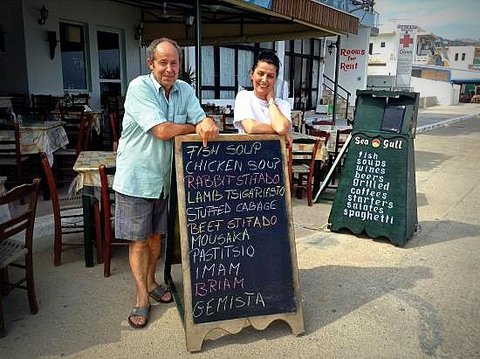 Chestnut stifado in the newly opened "Auntie's Restaurant" in the old Gavdos district. This is something for vegetarians and also convinces meat eaters. Either as a starter or as a main course. Costs are around 7 euros – a great change from the "normal" meat dish.
If you want it fast: a chicken pita at Everest. We love the unfolded version on the plate and not with tsatsiki or yoghurt, but with "sauce" – a mayo-mustard sauce that goes perfectly with the chicken pita, the "apó ola" contains also onions, lettuce, tomato and has the inevitable French fries. Fast, tasty and also cheap for 2.70 euros!
Veal liver with mustard sauce at Jorgos in the "Cape Crocodile". You do not find this dish often on a menu card. So it is worth a try. The meat is tender like butter and served with a mild, fruity mustard sauce on rice – a poem. Cost about 7.50 euros.
A tsatsiki at Pantelis. That may sound very flat, since there is tsatsiki on every corner, but THIS tsatsiki is special. Even our meat-savvy editor-in-chief is content with fresh bread and this tsatsiki in the evening, which is prepared at Pantelis with only a little garlic and dill.  Creamy and delicious – with about 3.50 euros also quite favorable.
Pork with dried apricots at Kostoula in the restaurant "Christos". Deliciously smoked, very tender pork in sauce, quasi "sweet and sour" with dried, mulched apricots. With rice, pasta or potatoes – something refreshingly different and very tasty. Costs also about 7 euros.
This list could go on forever, but at some point you have to decide and set a stop. We do that at this point but not until we have explicitly mentioned that here in Paleochora you can basically eat very well everywhere and that the above restaurants also offer a lot of other, very delicious dishes – we just wanted to inspire you a little. And probably a sequel will follow anyway …
Last not least another general tip: always ask for the daily menu, or follow the waitress into the kitchen for showing you around – there are often dishes that you won't find in any menu card!