Once again, a loyal reader followed our call to tell "your" stories about Crete. This time it is Sigrun Steinwender, who knows the hub of Crete (as we all probably do) and she wants the following: "especially on this occasion I want to announce that I – who have been coming to Crete's southwest for about 40 years now – have learned so much about this island-"continent" through Radio Kreta's many contributions about country and people in all areas of life, culture, nature, history … that I'm just sorry to have been to Crete so many years before without this enriching knowledge !!"

A big "efharisto poli!" to you from Radio Kreta, you diligent researchers! Just recently, I thought, what a shame it is that I haven't kept all the small, funny or dramatic experiences of my many Crete holidays throughout the years in a diary. So much has already happened which is today history and lost forever, if no one puts something down in writing.  And, I am afraid, my 75-year old brain has forgotten quite something.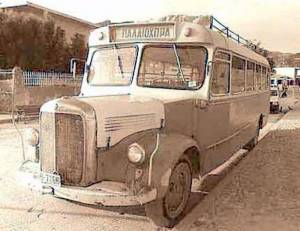 Dear Sigrun. We from Radio Kreta will not allow that to be forgotten. We are telling your story:
The adventurous bus ride in Crete
I was in Crete again for about three weeks, had already enjoyed some wonderful hikes and now wanted to treat myself with a day off in Chania, a place inviting stroll around and relax. I had gotten up early to take the morning bus. As practical as it might be to explore the area with a rental car, not tied to timetables and free to take any decision for any kind of side trips, I do prefer the bus as a cultural and traditional travel mean.
I have learned to love driving local buses from village to village over the years, watch the busdriver, the gesture-rich conversations of elderly women (often widows recognizeable with their all black clothers) and men hunchedbacked from hard agricultural work. Even during the most heavy verbal duels, none of them ever forgot to draw a cross in front of them, three times, whenever the bus was passing a church, even if it was only a tiny one far away between the olive trees. To my astonishment, this ritual is also common among the young people.
Once, somewhere in the mountains between the villages, an old peasant woman climbed into the bus. As usual in this country, she started a conversation with the person sitting next to her – in this case, it was me. She looked completely puzzled that there are people on this planet not capable of speaking fluent Greek. At this point of the story, I have to admit, that I speak this beautiful language only rudimentary – due to sheer laziness. Nevertheless, I listened attentively to the old lady not to spoil her game. Trying to interpret something by her facial expressions, I answered carefully with "nai" and "ochi". (Yes and no).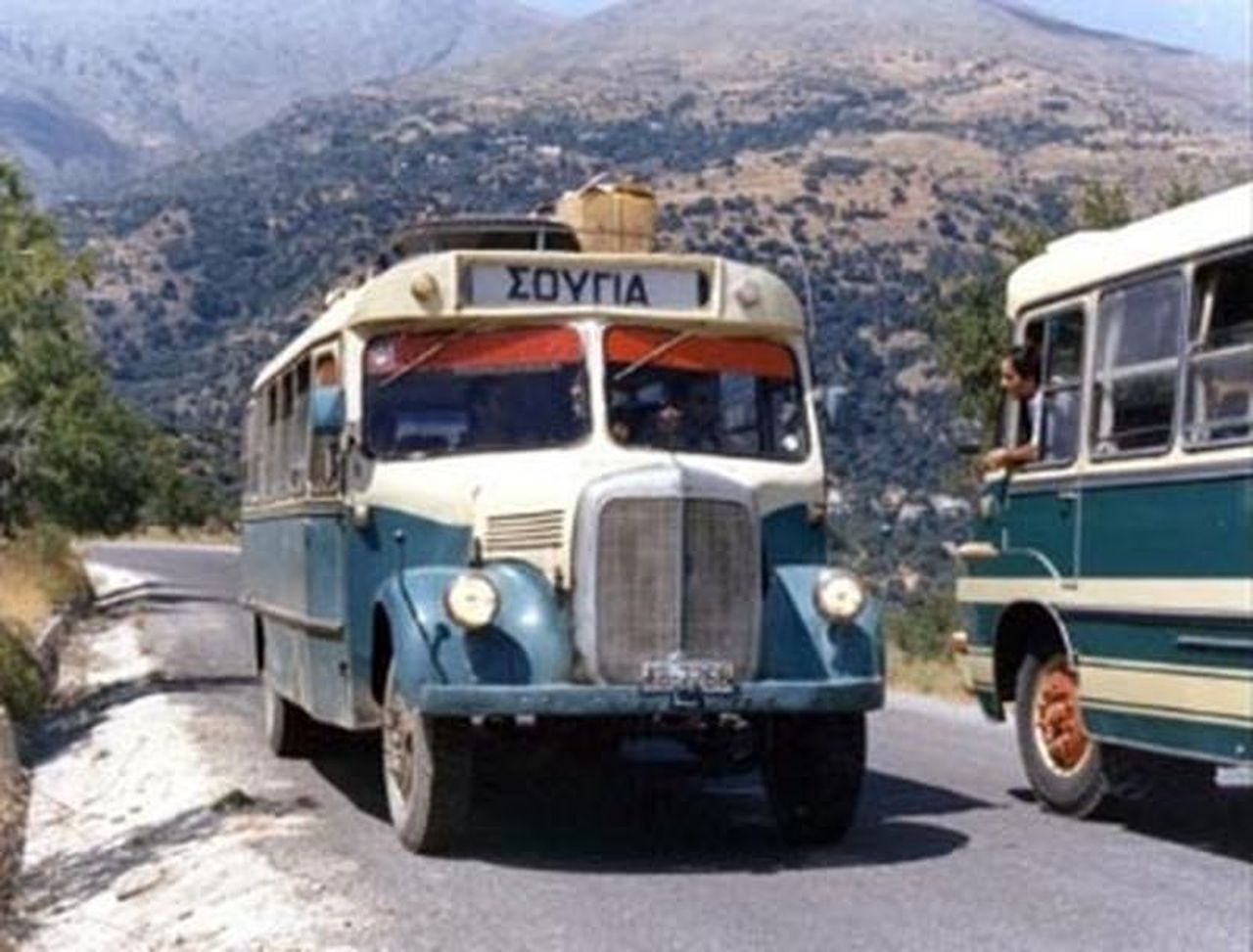 It went quite well for a while, we communicated vigorously, each of us in his our ways, when suddenly – I don't remember, whether it was a "nai" or an "ochi" – the woman looked at me with an expression of utmost astonishment, no to say horror! She fell silent immediately and ignored me for the rest of ride. She left the bus without greeting in the next village. I will never find out what crime I have been guilty of!
And another unforgettable bus ride.
Another bus trip – I guess it was some good twenty years ago – has remained indelibly in my memory. It would the unthinkable that this could happen the same way today – in our more and more standardized and practical, but increasingly disenchanted world!
From Sougia there is only one bus leaving to Chania. And then there is the bus which drives from Paleochora towards Omalos taking the travellers to the edge of the famous Samaria gorge, to join with the thousands of people-lemmings from the other buses arriving.
The two buses, the one from Sougia and the one from Paleochora, both stop where the road splits towards direction Omalos, so that hikers from Sougia can change to Omalos. But before they arrived at the station, the two buses communicated with each other by radio. They talked violently and both, the black and the bearded chauffer as well as the ticket controller got into a state of euphoria, they gestured and laughed like pubescent boys concocting a prank.
The ticket inspector ran through the bus and opened one of the windows just a little, while his colleagues continued to talk to the chauffeur of the other bus, who was already in sight behind us. And then – on this pretty narrow street – the bus from Paleochora overtook us. The ticket controller in the other bus also opened a window – and – with almost acrobatic precision pushed a cigarette pack through the opening, which the ticket controller in our bus received. Exact timing. The windows were closed again and now, after this carefully planned and successful maneuver, the chauffeurs and the controllers really let it go – it was a rapt delight as if they had had won the Olympic discipline in pushing cigarette packages through windows of moving busses.
The bus stopped briefly our of schedule at one of the next villages (also this would be impossible today), the landlady of the nearby Kafenion brought two glasses of Raki, which the two "winners" toppled, and the journey continued with the two Cretan heroes drowning in victory.
Now, that the ticket inspectors have fallen victim to the EU austerity measures and no longer entertain neither the passengers nor the drivers, also the bus chauffeurs seem to be a lonely, serious and a less friendly and excited mood. I am mourning the happy times when the world of bus chauffeurs and their assistants was still in order and many a bus trips an unexpected adventure.